Face wash
Name
Neem extract with lemon extract face wash
Orange extract face wash
Olive oil face wash
Pimple care face wash with tea tree oil and triclosan
Skin whitening face wash with Glycolic Acid-3%
skin whitening face wash with Glycolic Acid-6%
skin whitening face wash with Liquorice Extract,Lactic Acid ,Glycolic Acid
Skin whitening Face Wash with Glutathione
Silver flacks face wash
Non foaming face wash
Charcoal face wash
Charcoal face wash with charcoal beads
Tea tree and mint face wash
Apple cidar vinegar face wash
Chocolate face wash
Saffron and turmeric face wash
Vitamin – c with rose petals
Coffee face wash
Green tea face wash
D-tan cleanser
Gold cleanser
Gel Base Face wash with milliglobules(Lipo Beeds)
Name
Packsize
Pimple care face wash with tea tree oil and triclosan
Pimple care face wash with tea tree oil and Salicylic acid
Pimple care face wash with tea tree oil,Salicylic acid,Triclosan,Vitamin - E
Skin whitening face wash with Glycolic Acid-3%
skin whitening face wash with Glycolic Acid-6%
skin whitening face wash with Liquorice Extract,Lactic Acid ,Glycolic Acid
Skin whitening Face Wash with Glycolic Acid,Niacinamide
Cream Base face wash with milliglobules(Lipo Beeds)
Name
Packsize
Pimple care face wash with tea tree oil and triclosan
Pimple care face wash with tea tree oil and Salicylic acid
Skin Whitening Face Wash with Kojic Acid,Nicotinamide,Liquorice Extract,Vitamin -E,Mulberry Extract,Black Pepper Extract.
Oil Control Face wash in Cream Base for Oily and Acne Prone Skin
Creams
Name
Packsize
Brightening day cream
Retinol cream
Party glow face cream
D-tan cream
Potato cream
Anti wrinkle cream
Dark spot cream
Day cream with SPF
Anti cellulite cream
Anti pigmentation cream
Moisturising creams
Name
Packsize
Oil free moisturizer
Anti acne moisturizer
Vitamin – c moisturizer
Green tea moisturizer
White soft paraffin and light liquid paraffin
Glycerine,LLP, Wheat Germ Oil, Calendula Extract
Vitamin-E, Bees wax, Alovera, Hard Paraffin wax
Vitamin-E, Squelene and Zemea Propanediol
Calendula Extract, Petroleum Gelly, Peach Fruit Extract, Zemea Propanediol
Mulberry Extract, Aloevera, Bearberries Extract
Skin Whitening Creams
Name
Skin Whitening cream with Liquorice Extract 40% CA and Niacinamide
skin Whitening cream with Arbutin, Wheat germ Oil and OMC
skin Whitening cream with Wheat germ oil , Bearberries and Arbutin
skin Whitening cream with Glutathione
Sun Screen - Lotion Base
Name
Sun block SPF – 30 gel based
Sunscreen lotion SPF- 30
Sunscreen Day Cream
Sun block SPF – 30
Sunscreen SPF- 45
Sunscreen SPF- 50
Sunscreen Waterproof
Sunscreen SPF- 30 Silicon based
Sunscreen matte gel – 30
Light protection sunscreen SPF- 50 PA+++
Eco safty daily scrub SPF- 35 PA++
SPF 30 with OMC, Avobenxene and Titanium Dioxide
SPF 35 with OMC, Avobenxene and Oxybenzone
SPF 40 with OMC, Avobenxene , Oxybenzone , Titanium Dioxide , Aloe and Zinc Oxide
Moisturising Lotion
Name
Peach Extract and Jojoba oil
White soft Paraffin and light Liquid Oil
Glycerine, LLP, Wheat Germ oil, Calendula Extract
Vitamin-E, Bees wax, Alovera , Hard Paraffin Waxx
Vitamin-E, Squelene and Zemea Propanediol
Shea butter and cocoa Butter
Moisturising Lotion with sea minerals
Moisturising Lotion with Argan Oil
Calendula Extract , Peach Fruit Extract , zemea Propanediol
Mulberry Extract, Alovera , Bearberries Extract
Skin whitening Lotion
Name
skin whitening lotion with niacinamide, arbutin, wheat germ oil and OMC
Skin whitening lotion with Kojic acid, turmeric extract, nicotinamide, liqourice extract, wheat germ oil and carrot oil.
Skin whitening lotion with Glutathione
Calamine, zinc oxide, propylene glycol and alovera lotion
Face pack
Name
Pink clay mask
Turmeric face mask
Potato face mask
Skin lightening mask
Anti acne face pack
Orange peel and cucumber face pack
24 K gold facial mask
Koji milk facemask
Gold facemask
Charcoal face mask
Coconut milk facemask
Coffee face mask
Pumpkin facemask
Coco caffeine face glow mask
Vitamin-c facemask
Cleansing milk
Name
Cleansing milk with lemin extract and cucumber juice
cleansing milk with Alovera and rose petal extract
cleansing milk with Shea butter and cocum butter
Scrubs
Name
D tan scrub
Charcoal scrub
Tomato scrub
Coconut scrub
Coffee scrub
Anti acne scrub
Rose geranium scrub
Walnut and apricot scrub
walnut and grape seed oil scrub
chocolatr scrub
Neem and lemon extract scrub
alovera and tulsi scrub
Anti cellulite scrub
Peel off mask
Name
Chocolate Peel of mask
Coffee Peel of mask
Charcoal Peel of mask
Orange peel extract and lemon extract peel off mask
insta glow peel off mask with orange peel extract and golden glitters
peel off mask with grape seed oil and jojoba oil
Male /Female Hygine products
Name
Vaginal Hygine wash for Female
P-wash for male Hygine wash
P-strength liquid for male intimate strength
Breast Massage gel
Vaginal Lubricating gel
Vaginal tightening cream
Body lotions
Name
Calamine lotion
Face lotion with aloevera and rose merry
Baby body lotion
Saffron and turmeric body lotion
Argon body lotion
Vit-c body lotion
Carrot body lotion
Skin Toners
Name
Green tea Alcohol free toner
Skin whitening toner
Rose face mist
Antipollution face Mist
Cucumber mist
Makeup remover
Lip care
Name
Chocolate lip balm
Lip scrub strawberry
Beetroot lip scrub
Kiwi lip balm
Nicolip scrub
Orange lip balm
Coconut lip balm
Lip scrub gel based
Lip scrub vanilla
Night creams
Name
Anti acne night cream
Anti ageing night cream
Whitening night cream
Night cream for glow
Night cream with vit c and hyaluronic acid
Bath & Shower
Name
Charcoal Bodywash
Vetiver body wash
Whichhezel body wash
Mango shower gel
Aqua shower gel
Skin Care Product Manufacturers – The market for skincare and personal grooming products has a great demand. In recent years, it is seen that the people around the country are looking for better quality skincare products. Vive Cosmetics is a renowned name in the cosmetology industry for formulating high-quality ingredient products. We are into the formulation of the entire skincare product range segment. So, if you are looking for the leading Skin Care Product Manufacturers in India associate yourself with Vive Cosmetics now!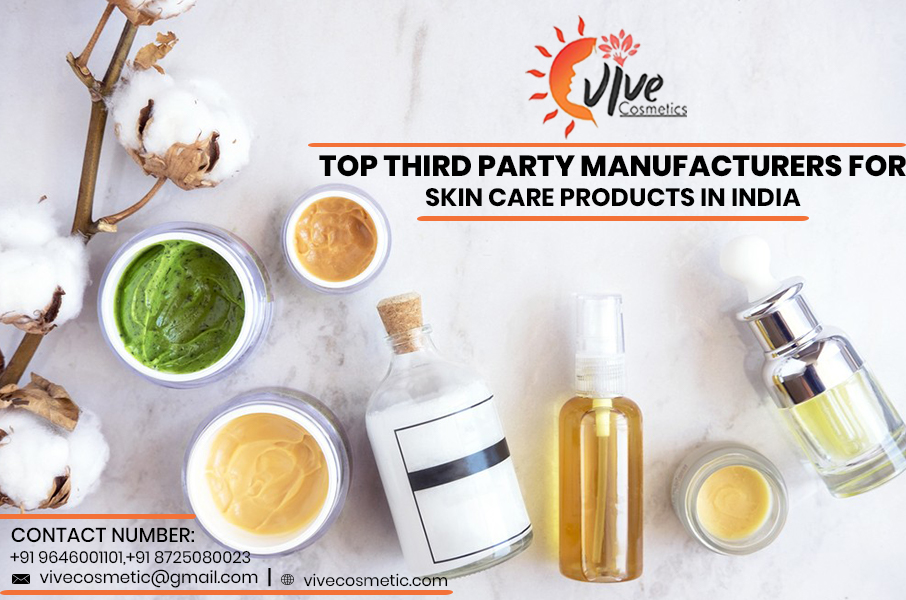 Our company is working dedicatedly to provide 100% satisfaction to all the customers and clients with outstanding products and business services. All the skincare range that we deliver is manufactured by looking at the demand of the market. People these days have become more conscious about their skin and how it looks and thus want products that can show effective results on their skin. Over a year, Vive Cosmetics has gained tremendous recognition as the most trusted Third Party manufacturing company for Skin Care Range in India. To have further business details and details about our product range, call on 9041480773 or send us an email at vivecosmetic@gmail.com.
Strict Quality Skincare products Manufacturing Policies by Vive Cosmetics 
These days' people are more concerned about the quality of the products they are using on their skin. So, our company has brought the perfect skincare solutions for all. Vive Cosmetics is the leading Third Party Manufacturing Company for the Skincare range in India and thus we make sure that all the products are clinically tested first. Our company has an R&D team that performs regular researches on the market demand and thus we are able to deliver the requirements of our customers. Further, all our skincare products are highly recommended by all the top dermatologists in India. To formulate the best quality range is the utmost priority of our manufacturing team. There are some quality-centric policies on which Vive Cosmetics works for the preparation of best skincare range -
Quality Centric Products – As an Innovative private label skincare cosmetics manufacturing company in India, Vive Cosmetics brings an effective range of products for positive results which are approved by DCGI and FDA
Quality processes and production – Our R&D team keeps on finding the new advances from the market and helps in improving the quality standards and consistency of the end product.
Private Labeling Services – Our Company also gives private labeling services for skincare products. We offer services of finished goods along with its marketing and designing.
High Performance as the leading Skin Care Manufacturing Company in India
Vive Cosmetics is India's leading Third Party Private Label manufacturing company for the skincare range. We manufacture all the world-class range of skincare derma range which helps in resolving all the skin disorders. Thus, all our product range is clinically verified and tested properly. Exceptionally good standards are being maintained while formulating this dermatological range. Thus, this helps our company to provide quality products and services to our customers and associates. There are several rules on which our manufacturing company works, such as –
Effectiveness
Efficiency
Affordability
Timely deliveries
Moreover, we have a strong network in all over India, thus, you can completely rely on our company and connect with us for better business opportunities for the skincare product range.
Why Vive Cosmetics is the Best Skin Care Product Manufacturers in India?
Vive Cosmetics delivers its quality assured skincare range as Skin Care Third Party Manufacturers in India. We have 100% safe and tested product range which satisfies our clients and customers as well. You can get a wide variety of Skincare Products with Vive Cosmetics such as –
Face wash
Gel Base face wash with milliglobules
Cream Base face wash with milliglobules
Creams
Moisturizing Creams
Skin Whitening Creams
Sunscreen (Lotion Based)
Moisturizing Lotion
Skin Whitening Lotion
Face Pack
Cleansing Milk
Scrubs
Peel-off Mask
Male/Female Hygiene Products
Body Lotions
Skin Toner
Lip Care
Night Cream
Bath & Shower Products
All these products in the skincare range are manufactured in our own manufacturing plants with full supervision of our experts. Moreover, all our products are certified by the GMP and WHO units. Thus, we are the most reliable name in the cosmetics industry as the Top Skin Care Product Manufacturers in India. Get connected with us now to enjoy this fabulous range of Skincare products in India.
Contact Details
Name – Vive Cosmetics
Address – Plot No. 773, Sector 82, JLPL, Ind. Area, Mohali, Punjab
Phone no. - 9041480773