Face wash and creams
| Name | Packsize |
| --- | --- |
| Ultra glow men's face wash | 50gm to 250gm |
| Men's fairness cream | 50gm to 250gm |
| Men's face creams | 50gm to 250gm |
Body wash and shower gels
| Name | Packsize |
| --- | --- |
| Tea tree body wash | 50gm to 250gm |
| Whichhezel body wash | 50gm to 250gm |
| Vetiver body wash | 50gm to 250gm |
| Lavender body wash with beads | 50gm to 250gm |
Hair care and styling
| Name | Packsize |
| --- | --- |
| keratin conditioner | 50gm to 250gm |
| Hair wax matte with sea salt | 50gm to 250gm |
| Clear styling gel | 50gm to 250gm |
| Hair fibre wax | 50gm to 250gm |
| Frostie bouncy hair wax | 50gm to 250gm |
| Extreme bond styling wax | 50gm to 250gm |
| Hair cream wax | 50gm to 250gm |
| Hair clay wax | 50gm to 250gm |
| keratin shampoo | 50gm to 250gm |
Beard Grooming
| Name | Packsize |
| --- | --- |
| Beard softener | 50gm to 250gm |
| Beard Oil | 50gm to 250gm |
| Beard Growth oil | 50gm to 250gm |
| Beard wax | 50gm to 250gm |
| Beard Balm | 50gm to 250gm |
| Beard gel wax | 50gm to 250gm |
| Shaving cream | 50gm to 250gm |
| After shave lotion | 50gm to 250gm |
| Beard wash | 50gm to 250gm |
Men's Grooming Product Manufacturers – Men's Grooming Products have the fastest growing market segment in India. There has been tremendous growth in the use of men's grooming products like men's bath and shower, deodorant, skin and hair care products. So, if you are looking for the best range of men's grooming products then Vive Cosmetics is the best solution for you all. As our company is known as the Leading Men's Grooming Product Manufacturers in India, we are producing a long list of quality assured products for men. So, you can connect with our company now to enjoy the big long-range.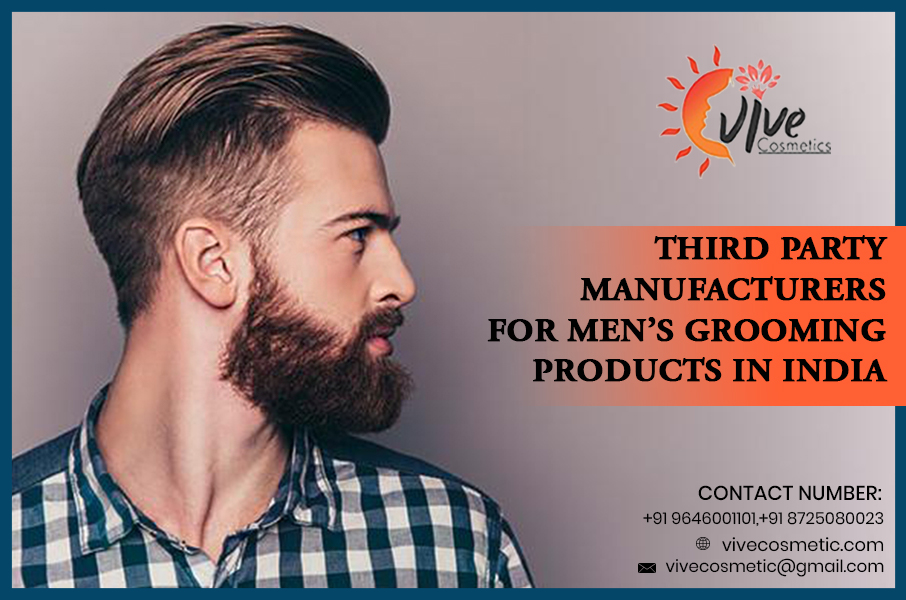 In recent times, it is seen that men take care of their skin and hair equally as women do. So, the market for the products for men has grown at a very high rate in the last few years. Thus, Vive Cosmetics has come up with all the essential product range that should be added in every man's grooming kit. Use our extraordinary range of products to nourish your skin and hair well. For further details about our company and product range give us a call on 9041480773 or send us an email at vivecosmetic@gmail.com.
Why Men's Grooming Products have a high demand in the market? 
Gone are the days when people used to think that men don't need beauty care products to look good. The mindset has changed a lot and it's no more a taboo that men don't take care of their appearance. Today, there is several men's grooming product list present in the market. As the Indian men are expanding their daily care routine beyond shaving and smelling good, many manufacturing companies in India are moving fast to bring a quality product range in the market. According to a report, from April 2018 to March 2019, many FMGC Companies came up with an estimated 177 new male grooming brands and products. Earlier only shaving and haircuts were included in the grooming services for men but with the changing style, trends and with the influence of social medicine and personal styles of actors, cricketers and other personalities the grooming segment has increased a lot. Thus, these manufacturing companies have been bringing all the products in the market to complete the growing demand.
So, if you are also looking for such a company in India that can manufacture a wide range of Men's grooming products.  
Best Private Label Manufacturing Company for Men's Grooming Products in India
Vive Cosmetics is a legally certified cosmetics manufacturing company in India that produces the widest range of Private Label products for all men, women, and kids. We are offering quality products to our customers and clients. So, if you are interested in having a business in this growing segment in India and want to deal with the best opportunities to earn profits connect with Vive Cosmetics and get an affordable range of products.
Our Mission – As the top cosmetology company in India, we work to provide a standardized range of well-researched products. Moreover, we have a mission to do continuous research to formulate innovative products for the healthy lives of all.
Our Vision – Vive Cosmetics has a vision of developing trust among all the customers in India with excellent services.
Quality Policy – As the Top Men's Grooming Product Manufacturers in India for Men's grooming product list, we have set our manufacturing unit that formulates new solutions in this industry with honesty and transparency. All the manufacturing process is done under the supervision of our expert team and thus we guarantee about the quality that we are delivering in the market.
Why Vive Cosmetics is the Leading Men's Grooming Product Manufacturers in India?
To complete the rising demand for the Men's Grooming Segment in India, Vive Cosmetics has brought the best range of products. We promise you to deliver the best quality range in this segment. Moreover, Vive Cosmetics is capable of manufacturing the bulk orders of these men's care range. Also, we guarantee you that all the products are manufactured through a cruelty-free process and no animal is being harmed during the process. So, connect with us to get the 100% satisfactory men's product range which is certified by the GMP and WHO unit. You can completely rely on our manufactured product list. Join us today to get the widest products in the segments for –
Face wash and creams
Body wash and shower gels
Beard Grooming
Haircare and styling
So, associate with the best Men Grooming Products Manufacturers in India - Vive Cosmetics.
Contact Details
Name – Vive Cosmetics
Address – Plot No. 773, Sector 82, JLPL, Ind. Area, Mohali, Punjab
Phone no. - 9041480773