Hair serum
| Name | Packsize |
| --- | --- |
| Hair serum with 3% redensil | 100ml to 50ml |
| Hair serum with caffeine | 100ml to 50ml |
| Hair serum with argon oil | 100ml to 50ml |
| Wheat germ oil and grape seed oil hair serum | 100ml to 50ml |
| Silicon oil with dimenthicone hair serum | 100ml to 50ml |
Shampoo
| Name | Packsize |
| --- | --- |
| Onion and caffeine Shampoo | 100ml to 1ltr |
| Potato Shampoo | 100ml to 1ltr |
| Onion and ginger Shampoo | 100ml to 1ltr |
| Onion shampoo | 100ml to 1ltr |
| Red clay Shampoo | 100ml to 1ltr |
| Green clay Shampoo | 100ml to 1ltr |
| Banana shampoo | 100ml to 1ltr |
| Neem shampoo | 100ml to 1ltr |
| Argan shampoo(Pearling) | 100ml to 1ltr |
| onion and honey suckle shampoo | 100ml to 1ltr |
| Keratin shampoo | 100ml to 1ltr |
| Protein shampoo | 100ml to 1ltr |
| Charcoal shampoo | 100ml to 1ltr |
| Biotin shampoo | 100ml to 1ltr |
| Biotin shampoo | 100ml to 1ltr |
| Dandruff control shampoo with piroctone olamine and jojoba oil | 100ml to 1ltr |
| hair fall control shampoo with Niacinamide, soyabean extract, wheat protein extract, vitamin-E and grape seed oil | 100ml to 1ltr |
| conditioning shampoo with polyquartenium 10, simenthicone, hydroxy ethyl urea | 100ml to 1ltr |
Conditioner
| Name | Packsize |
| --- | --- |
| Keratin hair Conditioner | 100ml to 1 ltr |
| onion hair conditioner | 100ml to 1 ltr |
| Bhringraj Sikakai Conditioner | 100ml to 1 ltr |
| Amla Methi and honey conditioner | 100ml to 1 ltr |
| Argon hair conditioner | 100ml to 1 ltr |
| Apple cidar vinegar hair conditioner | 100ml to 1 ltr |
| Dandruff control shampoo with piroctone olamine and jojoba oil | 100ml to 1 ltr |
| hair fall control shampoo with Niacinamide, soyabean extract, wheat protein extract, vitamin-E and grape seed oil | 100ml to 1 ltr |
| Heavy moist conditioner- Polyquartenium-10,Siethicone, Hydroxy Ethyl urea. | 100ml to 1 ltr |
Hair oils & treatments
| Name | Packsize |
| --- | --- |
| Onion hair oil (Red) | 100ml to 500ml |
| Potato hair oil | 100ml to 500ml |
| Green tea hair oil | 100ml to 500ml |
| Herbal hair oil | 100ml to 500ml |
| Coffee hair oil | 100ml to 500ml |
| hair oil for straightened | 100ml to 500ml |
| Anti grey hair oil | 100ml to 500ml |
| Hibiscus hair oil | 100ml to 500ml |
| Onion & Ginger hair oil | 100ml to 500ml |
| 10 days hair oil | 100ml to 500ml |
| Apple cidar hair oil | 100ml to 500ml |
| Chocolate hair oil | 100ml to 500ml |
| Curry leaf hair oil | 100ml to 500ml |
| Amla bhringraj hair oil | 100ml to 500ml |
| Cool oil | 100ml to 500ml |
| 18 in one oil | 100ml to 500ml |
Hair Care Product Manufacturers – Every Part of our body is essential and needs to be taken care of. Hair is the most important beautification of our human body and thus, it requires special care and proper treatment. But due to the recent environmental changes, health problems many people tend to lose this beauty of their body. So, it causes many hair-related problems such as hair loss, hair breakage, and itchy scalp and so on. It has become vital to take care of our hair and for that, one should always use the best quality Hair Care Products. You can associate with Vive Cosmetics for the best range of products as we are the Top Hair Care Product Manufacturers in India.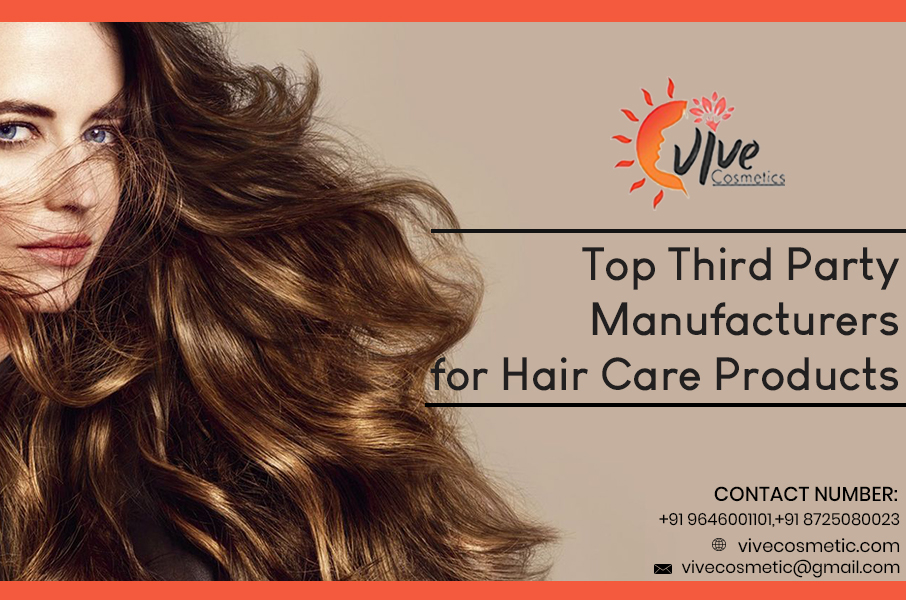 Vive Cosmetics is an established manufacturer and supplier of the quality range of Hair Care Products in all over India. Our haircare product consists of a wide range with a variety of effects and helping the hair to become smooth, clean, and conditioned. There is a huge scope to get into the business for this Hair Care Range in India and connecting Vive Cosmetics will help you in earning profits. To know more about our company and product range; give us a call on 9041480773 or send us an email at vivecosmetic@gmail.com.
Uses of Quality Hair Care Products by Vive Cosmetics
Vive Cosmetics is the leading Private Label Manufacturing Company in India for the Hair Care Range. For this, we have set our own manufacturing plants that work on manufacturing the items that help in improving the condition of hair. Our products are capable of fighting all hair-related problems such as dryness, frizziness, hair loss, hair breakage, etc. Moreover, the product range we deliver in this section helps in fighting with dandruff, scalp conditioning, and scalp cleansing. You can rely on the product range that we deliver as all the products are formulated under the guidelines of GMP and WHO. Our manufacturing plant is set up with advanced technology and examined natural resources to formulate the world-class range of hair care products. All the products we deliver in the market are of affordable price and available in every part of India. So, if you are looking for a company that can give you the quality assured a range of hair care products, Vive Cosmetics is the right choice for you.
What Motives Does Vive Cosmetics Work?
Being the Top Cosmetics Manufacturing Company in India, there are several motives on which we work, such as –
Firstly, to deliver the highest quality hair care and other cosmetics range to all our customers and clients in India.
Secondly, to give 100% satisfaction and 24*7 client's satisfaction to all.
Thirdly, Vive Cosmetics promises to offer value for money product range in the right quality as demanded by the market. Thus, gaining the trust of all the customers.
Also, our company gives proper attention to all the detailing of the products irrespective of their sizes. Thus, we aim at making an efficient range of cosmetic hair products which are flexible for every buyer.
Moreover, we deliver all our products in every part of India on time with punctuality.
Why Vive Cosmetics is the Best Hair Care Product Manufacturers in India?
If you are looking for a Manufacturing Company in India who can deliver the best Hair Care Range for business purposes, then Vive Cosmetics is the one-stop destination for you. We are giving our extraordinary services in this industry as the Top Third Party Manufacturers for Hair Care Range. With the 100% satisfactory range of qualitative products we have ruled the Indian Market. All the products we manufacture in our unit first get certified by the GMP and WHO organization. Our haircare range is capable of resolving all the problems related to hair. So, you can completely rely on us for the safest products for your hair. You can invest your money in Vive Cosmetics now for the better business opportunities in India and earn profits.  So, get the widest range of products in this range which includes different products under –
Hair-serum
Shampoo
Conditioner
Hair oils & treatments
Join Vive cosmetics in India now!
You can connect with Vive Cosmetics if you are looking for the following services as well -
Contact Details

Name – Vive Cosmetics

Address – Plot No. 773, Sector 82, JLPL, Ind. Area, Mohali, Punjab

Phone no. - 9041480773