Cosmetic Manufacturers In Noida – Looking for a reliable company for cosmetic private labeling services in Noida? Well, here is the solution for you; Vive Cosmetics is a customer-centric company that gives the specified products according to private labeling. So, if you contact us in Noida on a contract basis or third party services; then you can enjoy a good quality range of products on time. Vive Cosmetics is here to fulfill all the demands of the cosmeceutical market in Noida. Be part of the Top Cosmetic Manufacturers in Noida and enjoy the services and earn good returns for the market.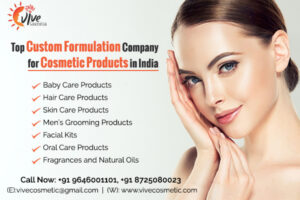 Vive Cosmetics is formulating a colorful range of products with all the unique innovations. We can help our clients to form their business in this industry in Noida and in other parts of India as well. Moreover, our company is here to transform your ideas into reality. So, we are helping you with all the skilled and expertized products in the cosmetic range. Get in contact with Vive Cosmetics now by calling on 9041480773 or send us an email at vivecosmetic@gmail.com.
Cosmetic Manufacturing Facilities by our Company in Noida
Vive Cosmetics has a modern and state of art manufacturing unit which is specially designed to get the most effective, efficient, and comforting cosmetic products. All our products are formed by following the global quality standards and guidelines. Our manufacturing plant is widely spread in an excise free zone. Moreover, we make sure that the manufacturing area by our company is build up with all the modern machinery which has the capacity to formulate large-scale products on a timely basis. In fact, our company also focuses on the packaging process to complete the safety and superiority of our products. So, for this Vive Cosmetics have well-equipped labs and units that maintain all the requirements of our clients which 100% results.
Why You Must Contact a Reliable Cosmetic Manufacturing Company in Noida?
Cosmetic Private Label Manufacturing Companies can help people who are looking to form their business plans in this industry. This is a great opportunity to outsource the cosmetic manufacturing of products by a reliable company like Vive Cosmetics. In this manner, you can easily slip into the cosmeceutical market with the quality approved range of products. Moreover, these companies will offer you cosmetic products at a wholesale price. So, getting your preferred category at a genuine price can help you in many ways. You don't have to invest in large manufacturing and storage spaces. Rather, you can invest this money in getting your own private cosmetic products in Noida. So, by this method, both the parties get satisfied and work accordingly.
Cosmetic Product Categories Offered by Our Company
All our cosmetic categories are specially designed as per the requirements of our clients. So, you can get products like –
Skin Care Range
Peel off mask
Personal Hygiene products
Face-pack
Cleansing milk
Face-wash
Creams
Skin Toners
Lip Balms
Sun Screen
Bath & Shower Products
Lotion
Scrubs
Men's Grooming Range
Shower gels
Face wash
Hair care and styling
Body wash
Beard Grooming Products
Hair Care Range
Shampoo
Conditioner
Hair-serum
Hair oils
Oil and Treatment Range
Skin Serums
Butters
Hair oil
Oral Care Range
Mouth wash with menthol
Cosmetic and herbal toothpaste
Gel-based toothpaste
Baby Care Range
Cream & Lotion
Sulphate Free Shampoo & Soap
Baby Facewash
top to toe wash
Baby sunscreen
Baby bubble bath
Hair oil
Baby massage oil
Facial Kit Range
Gold facial kit
Diamond facial kit
Charcoal facial kit
Pearl facial kit
Contacting the Top Cosmetic Manufacturers in Noida
We insist you contact Vive Cosmetics for the Best Products in Noida. You will get all the private Label Manufacturing Services by our company that too on time. Vive Cosmetics is in the contact with all the strong networking associates who help us in reaching out to the maximum places on time. Being the top cosmetic manufacturers, we also make sure that our company has the storage capacity for cosmetic products as well. All the cosmetic products by our company have certification from the ISO, GMP and WHO which ensures our quality.
Contact Details
Name – Vive Cosmetics
Address – Plot No. 773, Sector 82, JLPL, Ind. Area, Mohali, Punjab
Phone no. – 9041480773
Explore More Private Label Cosmetic Third Party Manufacturing Services: