Cosmetic Contract Manufacturer In India – As people are showing more concern about the way they look, the demand for cosmetic products is increasing each year. Caring for the body is the utmost priority of people these days. Thus, this has led to the emergence of many cosmetic product manufacturing companies in India. Investing in this particular sector can give much higher returns to all the business seekers in India as compared to any other Industry. So, if you are looking for the same and want to associate with the Cosmetic Contract Manufacturer in India, then join hands with Vive Cosmetics now.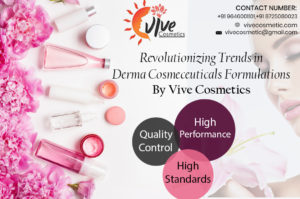 Connecting with a cosmetic manufacturing company in India can give you many strategic benefits in the market. This business model reduces the financial burden and other business formalities and helps the business owner to engage themselves actively in a particular market. Well, if you are looking for a profitable future in the fastest-growing cosmetic market in India, then you should definitely get in touch with Vive Cosmetics now. To know more about top Cosmetic Manufacturers in India, give us a call at 9041480773 or email us at vivecosmetic@gmail.com.
Our Motive as the
Top Cosmetic Manufacturing Company in India
Being at the top of the cosmetic market in India, Vive Cosmetic has a lot to offer. Thus, we are legally certified private label cosmetic manufacturers in India, offering the highest quality skin and hair care solutions in the market. Moreover, we work on specialized manufacturing formulas to complete the growing expectations of our customers and clients in the Indian cosmetic market. Our company is successful in bringing standardized and fully researched cosmetic and personal care products with continuous innovation and creativity.
In addition, we have certain set parameters and values on which our company provides the business strategies in the market. Moreover, Vive Cosmetics has the vision to be the leading international cosmetic manufacturing company by making trust among the customers with our excellent product portfolio. We bring the best business opportunities for all the clients in India with 100% transparency and genuine deals. So, trust Vive Cosmetics in India if you are searching for a cosmetic contract manufacturer for the best products.
The Rising Demand in the
Cosmetic Market in India
India's Cosmetic market is among the fastest-growing markets among all and is expected to grow over 6% during 2019-2024. This is because of the rising population of youth and the adoption of western culture and lifestyle. People are paying more attention to the way they look. Thus, they are buying more personal grooming and cosmetic products. In addition, people are spending more of their income on the beauty and cosmetics range. All these reasons are contributing to the driving increase in this particular market.
Seeing the present-day scenario for cosmetic products in India, there are a number of manufacturing companies that have come up with the introduction of a new range of products. So, if you are planning to invest in this market in India and want a less budget start-up, then contacting the top Cosmetic Manufacturing Company for Cosmetic Products is the best option for you. So, if you want a successful and prominent business opportunity, then reaching out to a Cosmetic Manufacturers in India is the best choice right now!
As per the reports, the current value of India's cosmetic market is $15 Billion and is estimated to increase over 4% in a year.
The most demanded product range is hair care and the other is personal hygienic products. So, this can be an extravagance opportunity for all those who are interested started their own brand.
Here at Vive cosmetics, you will get all the facilities under one roof! Reaching out to us on the following details.
Why we are known as the
Best Cosmetic Contract Manufacturers In India

?

Vive Cosmetic is an ISO 9001:2015, GMP and WHO certified cosmetic company in India. With an aim to serve the best in the country, our company is working really hard. Thus, we have divided our company into different departments to get highly specific and quality results. Following is the list of highlights of Vive Cosmetics that makes is on the top of the list of cosmetic companies in India. For instances,
Vive Cosmetics has its own manufacturing, R&D
Quality control units work dedicatedly
Best range of cosmetics products and personal care products here in India.
So, if you associate with us now, you will get an opportunity to get the widest range of products.
These ranges include serums, hair oil, shampoo, conditioner, creams, face wash, lotions, baby care products, men's grooming range, toothpaste, oral wash, facial kits, etc. So, our company assures all our associates with a reliable range of products. Moreover, these products are made under the supervision of a qualified team. So, you don't have to get worried about the quality we deliver. Hence, join Vive Cosmetic in India and get all the products at an affordable price and get all the high-quality services as the top Cosmetic Contract Manufacturers in India.
Company Name – Vive Cosmetics
Registered Address – Plot No. 773, Sector 82, JLPL, Ind. Area, Mohali, Punjab
Phone Number – +91 90414 80773
Frequently Asked Questions (FAQ)
Q – Which is the Best Cosmetic manufacturing Company In India?
A – Vive Cosmetics is among the best cosmetic companies in India that also provides cosmetics manufacturing services.
Q – Which company is best for Cosmetic Contract Manufacturers In India?
A – Vive Cosmetics is the best for Cosmetic Contract Manufacturers In India and is an ISO-WHO-GMP-certified company.
Q – Is the cosmetic business profitable?
A – Yes, Cosmetics is totally a profitable business. The demand for cosmetics is highering each year.
Top Cosmetic Manufacturing Companies In India
Contract Manufacturing Cosmetics India
Third Party Cosmetic Manufacturers In India
Top Cosmetic Manufacturers In India
Private Label And Third Party Cosmetic Manufacturers In India
Explore More Private Label Cosmetic Third Party Manufacturing Services: