Baby Oil Products Manufacturers in India – The market for baby care products in India is a good growing market over the last few years. The growth rate for baby care derma products is constantly going up in the market across the nation. The range of Baby Care Products includes products related to baby food, toiletries, skincare, haircare, baby convenience, etc. That's why; Vive Cosmetics has come as the topmost Baby Oil Products Manufacturers in India with a long product list.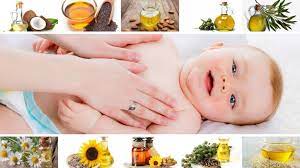 So, if you are in search of top-quality Baby Oils, Vive Cosmetics will assist you to make huge profits. Therefore, you should connect with Vive Cosmetics now for the best quality Baby Oil Products. We are aware that the baby's skin is very delicate & soft and therefore, it requires proper care & nourishment. So, grab the brilliant quality baby oil products we are processing to nourish the skin & hair of your baby.
In the last few years, Vive Cosmetics has managed to gain huge trust from its customers across the nation. The main reason behind it is that we are manufacturing the top quality as well as a reliable range of Derma Products. In addition to this, we are distributing these products across India. For getting in touch with us and to know our product range, give us a call on +91 90414 80773; +91 87250 80023 or drop us an email at vivrcosmetic@gmail.com.
Why All Babies Require Special Baby Oil Products?
Babies have extremely sensitive & soft skin which needs care & nourishment at all times. Every parent is ready to pay for top-quality products for their babies that are safe as well as delicate. Products that cause less or no irritation on the skin are usually recommended for babies. Vive Cosmetics is a registered Derma Company, so we are taking additional care at the time of manufacturing this range. The skin of a baby is more sensitive & thinner than an adult's skin.
Therefore, the baby care products like oil need to be processed with the help of a mild cleanser. It will protect the skin's natural balance. Furthermore, the skin of a baby may cause allergy or irritation if the oil products carry a harsh substance. Therefore, we are making sure that the Baby Oil that we are processing has a minimal level of toxins. By taking so much care, we have become the best Baby Oil Products Manufacturers in India. You should connect with us to get the best quality range of Baby Oil.
Why is it Crucial to Select the Correct Baby Oil Products Manufacturers in India?
As the baby oil manufacturing industry is successfully growing in India, various new Derma Companies are coming up in the market. So, it has become very crucial for you to select the right company that processes the best quality baby oil. Therefore, in this section, we are mentioning some of the benefits that you may avail yourself by joining our firm. Here are some of those benefits –
At first, you do not need to take any tension about the quality of the products we are processing. This is mainly because we are manufacturing the best quality baby oil products in the market.
Secondly, we are manufacturing & delivering the products & services in the stipulated time frame at all times.
Thirdly, we are also offering special discounts if someone orders the range of Baby Oil Products in bulk.
Furthermore, you need not make any extra efforts as all the product manufacturing processes are performed by us only.
Accordingly, these were a few benefits that you'll get after associating with the Baby Oil Products Manufacturers in India. You can reluctantly rely on us at Vive Cosmetics for the top quality baby care products & services in India.
Why Vive Cosmetics is the Best Baby Oil Products Manufacturers in India?
With an increase in the demand for quality Baby Oil Products, people are joining the best Baby Oil Product Manufacturers. At Vive Cosmetics, we never bargain with Baby Oil Manufacturing and thus, we are using the best quality ingredients. Additionally, we also have an expert team that is supervising all the manufacturing processes of Baby Oil Product. Therefore, we are successfully producing a range of 100 percent satisfactory products.
Moreover, while manufacturing the Baby Oil Products, we don't use any chemical substance as well as no animal testing is performed. At Vive Cosmetics, we are capable of producing bulk orders as well under the certification of GMP & WHO. Therefore, you will get top-quality Baby Oil Products after connecting with us at Vive Cosmetics.
Contact Details
Company Name – Vive Cosmetics
Contact Number – +91 90414 80773; +91 87250 80023
Registered Address – Plot Number – 773, Sector – 82, JLPL, Industrial Area, Mohali, Punjab, India
Explore More Private Label Cosmetic Third Party Manufacturing Services: