Cosmetic Pencil Manufacturers in India – Women in all eras have used makeup products religiously and one of the most used products in the cosmetics range is the Eye and Lip Pencil. This Cosmetic Pencil is used for enhancing your makeup and helps in giving a proper definition of your face. Well, there are several names in the market which are indulged in the production of different Cosmetics Eye and Lip Pencils. Here are suggesting you connect with the Top Cosmetic Pencil Manufacturers in India, i.e. Vive Cosmetics. Our Cosmetic pencils are in different formula ranges and serve multipurpose. Vive Cosmetics is manufacturing the best quality eyeliner and kohl pencils which are suitable for beginners as well.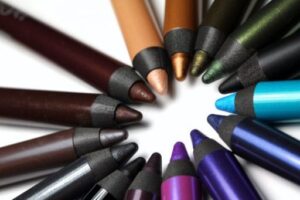 You will get a lot of options from the cosmeceutical market for the pencil manufacturers in India. But among all the names Vive Cosmetics is effectively formulating the brands for Cosmetic Pencils in India which matches all different requirements in the market. The price for the cosmetic pencil by our company is kept at a reasonable amount and thus, we are the best option for all the popular brands in India. Get in touch with Vive Cosmetics now for a budget range of quality Eye Pencils in India. For further information, do give us a call on 9041480773 or send us an email at vivecosmetic@gmail.com.
Premium Quality of Production of Cosmetic Pencil Products in India
The manufacturing unit of Vive Cosmetics is a strongly based unit with all the advanced technology, machinery, and equipment. We are the most trusted cosmetic company which is supplying a wide range of required products with premium quality. So, the Cosmetic Pencil by our company is manufactured with 100% safety and gives extra smooth results. Our product gives rich luxurious color and experience on your skin. The manufacturing of our Cosmetic Pencil is done by using all the handpicked ingredients and raw materials by our team experts only. Therefore, Vive Cosmetics is here offering all the organic makeup and other skin & hair products specially designed for Indian customers.
Our cosmetic pencil is purely manufactured for Indian tones and textures. You will not find any kind of chemical or harmful preservative in our naturally sourced Cosmetic Pencils in India. We manufacture lightweight yet long-lasting effective cosmetic pencils. Vive Cosmetics' is here with an exceptional range of products that are clean and safe for use.
Creating Your Business Line for Cosmetic Pencil in India
You can go for the help of the Cosmetic private label manufacturers in India if you are looking to enter the line of business for the best quality of cosmetic pencils under your name on it. Vive Cosmetics is the best private label manufacturing company that produces products for other companies for their own business brand. In fact, we have other cosmetic ranges as well to offer in the market to all the interested investors. So, you can connect with us to get your required personalized cosmetic pencils or other products at a genuine price. With Vive Cosmetics you will get the privately owned cosmetic pencils for a minimum cost with the fastest production and other marketing strategies to grow.
If you are planning to enter the Cosmetic Business, then taking support from a well-known manufacturing company will help you to establish the goal efficiently.
Why We are the Right Choice for Cosmetic Pencil Manufacturers in India?
Vive Cosmetics will offer all the well finished Pencil Products with your company's label at a reasonable price in India. All the stages of Cosmetic Pencil Production are done in our unit only and we supply these in every corner of our country. So, for the private label manufacturing services with Vive Cosmetics for Pencil in India, you just need larger investments and you can get the products of your requirement. All our Cosmetic Pencils manufacturing in our unit gets the certification from the ISO, GMP, WHO, and DCGI units.
So, we are giving you the opportunity for easier growth of business for Cosmetic Pencils in India. Contact Vive Cosmetics now for the Manufacturing services on a private labeling basis.
Contact Details
Name – Vive Cosmetics
Address – Plot No. 773, Sector 82, JLPL, Ind. Area, Mohali, Punjab
Phone no. – 9041480773
Explore More Private Label Cosmetic Third Party Manufacturing Services: